The Impact of Digital Infrastructure on the Sustainable Development Goals: A Study for Selected Latin American and Caribbean Countries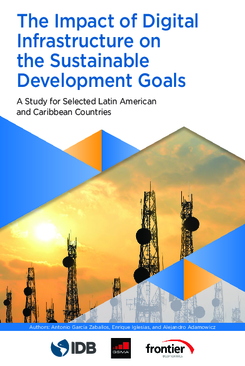 This publication identifies the role of digital infrastructure in improving social and sustainable development outcomes in 12 Latin American and Caribbean countries (Argentina, Bolivia, Chile, Colombia, Costa Rica, Ecuador, Guatemala, Mexico, Honduras, Panama, Peru, and Suriname) with the key benchmarks being the Sustainable Development Goals (SDGs) in the areas of education, employment, agricultural sustainability, food security, and spatial inequality. It identifies a gap between the outcomes achieved for each SDG in the countries studied and those achieved in OECD countries. Moreover, the region still has a long way to go to achieve the SDG targets set in the 2030 Agenda for Sustainable Development. The authors explain how investment in information and communications technology, in particular telecom infrastructure, can help close the gaps between the region and these two benchmarks (OECD countries and SDG targets).
They also quantify the investment in telecom in the region between 2008 and 2017 and estimate what amount is still needed to help close these gaps. The authors stress the critical role of international institutions, specifically multilateral organizations such as the Inter-American Development Bank and the Andean Development Corporation–Development Bank of Latin America, in financing this investment. Concessional financing can be mobilized in areas where domestic public and private resources are insufficient.
Other key recommendations include the removal of unnecessary policies that distort investment decisions, such as excessive regulation and inefficient taxation, as well as more widespread adoption of digital technology and broadband services by reducing the cost of telecom services, increasing the availability of local content, and expanding digital literacy campaigns.