Approach to Digital Transformation: Guidelines and Recommendations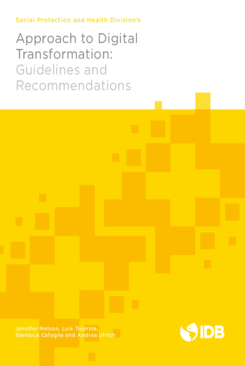 Digital transformation is here to stay, as evidenced by the growing consensus among the global community. The Latin American and Caribbean (LAC) region has large deficiencies in quality and efficiency, two areas in which digital transformation of services has significant potential. Adverse event rates in the region are around eleven percent in hospitals and five percent in ambulatory care. If countries in LAC reach the levels of their most efficient peers, even while keeping public health spending stable, on average, people there could live four more years. In the area of social protection, most countries show even less development in digital transformation, although they have been evolving quickly. There are still no open standards to promote interoperability, maturity models, or open source communities.

While digital transformation is changing lives, digital tools are not, and never will be, "silver bullets" that improve quality, safety and efficiency on their own. The added value of Digital transformation for health for the social sector is that by harnessing the power of digital tools, we can re-design social protection and health services to be more personalized for the people of Latin America and Caribbean. However, in order to harness digital tools, a strategic approach to the adoption of technology in health and social protection is required. To that end, in 2018 the Inter-American Development Bank took a major step forward by endorsing the Principles for Digital Development.

These nine principles offer a strategic approach to investing in the digital transformation of health and social protection. This document describes the approach of the Social Protection and Health (SPH) Division to digital transformation and lists guidelines that we will follow as part of our technical and financial support to countries in the region. By utilizing the Principles for Digital Development as a framework, SPH provides a systematic approach for investments in the digital transformation of health and social protection. Although this version's content focuses on the health sector, all of the practices are also applicable to social protection.