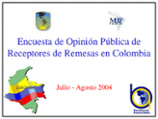 Presentación sobre la encuesta realizada a los receptores de remesas en Colombia. Da a conocer los resultados principales y la metodología de la misma, así como gráficos estadísticos.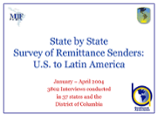 Power Point presentation from a May 2004 conference with detailed state-by-state data on remittances sent from the US to Latin America.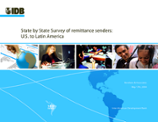 Results and analysis of a poll of major remittance senders and a geographic map of the origin of remittances by state in the continental U.S.