Clusters in the Caribbean: Understanding their Characteristics, Defining Policies for their Development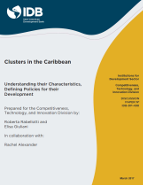 The aim of this paper is to map Caribbean clusters and identify their specificcharacteristics based on existing literature and available empirical evidence. A
desk review of 32 clusters distributed across the Caribbean looks at natural
resources (agriculture, agro-processing, forestry, aquaculture, and energy),
manufacturing, and services (tourism, creative industries, and business services) industries. Three groups of clusters are identified: rising, innovative, and sluggish. Based on this classification, policy recommendations are provided
considering the diverse characteristics of the investigated clusters.