Inter-American Development Bank Annual Report 2017: Financial Statements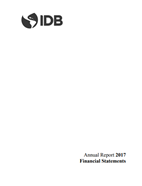 This report is the second of two volumes which together constitute the Inter-American Development Bank's 2017 Annual Report. This report contains the management's discussion and analysis of the Bank's ordinary capital and financial statements.
This block is broken or missing. You may be missing content or you might need to enable the original module.