MIF Evaluation: Human Resources and Labor Market Projects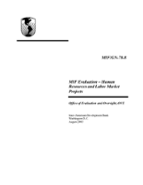 This report is an integral part of the work program of the Inter-American Development Bank's (IDB) Office of Evaluation and Oversight (OVE) to evaluate Multilateral Investment Fund (MIF) activities, since the beginning of its operations in 1993, following the mandate of its Donors Committee.
The report provides an analysis of the elements that define the context of labor market and human resources development policies during the period of MIF interventions. These elements provide the basis for assessing the effectiveness of the Fund's human resources development programs and strategy. The report summarizes both the Bank and MIF strategies in the area of labor markets and human resources development. It presents the results of an in-depth evaluation of 75 MIF projects related to human resources development between the years 1994 to the end of 2002.